Last week I ended my vacation by going to Flickan to eat a great dinner. I have been to the same place a long time ago but then it was a restaurant under another name called Omakase Köttslöjd.
I was the first to arrive for the first service of the day and I got a good greeting.
Then I got to see the menu: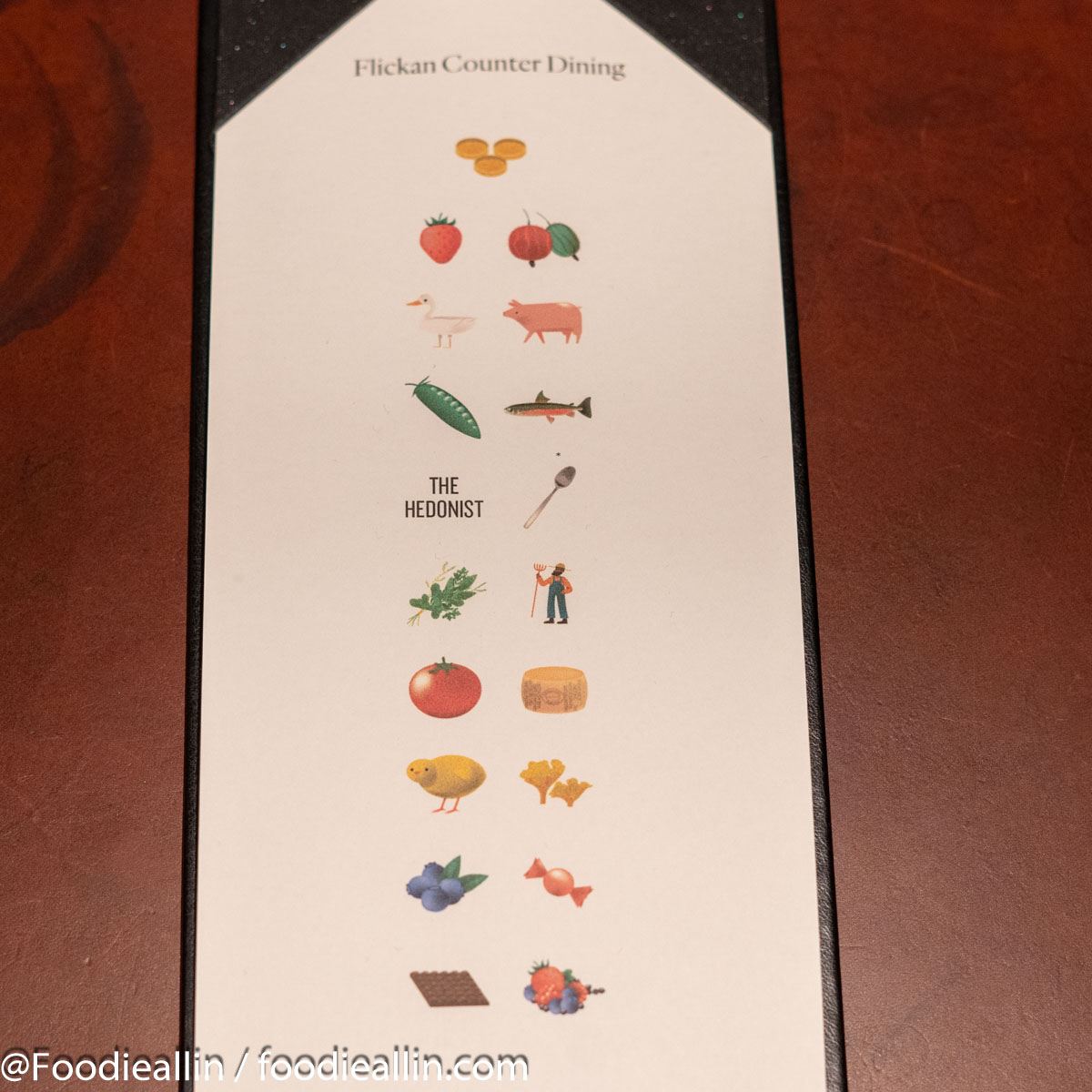 You don´t get that many options, they have Flickan Counter Dining only at it is 795 Sek then you have the options to add The Hedonist for another 195 Sek which I did, and I did not regret that. Then you can add recommended beverages for another 795 Sek. But today I was going for only water for the dinner.
I started off with three different tartelettes, and they were:
Emulsion of eggs and Comté cheese, preserved garlic and truffles
Lumpfish roe, sour cream and chives
Grilled and pickled celeriac with truffles
They all completed each other and was a perfect mix. But if I had to pick a favorite, I think it would be Emulsion of eggs and Comté cheese, preserved garlic and truffles.
Then it was time for Foie Gras ice cream with preserved unripe strawberries, gooseberries, pistachios and pumpkin seeds. It is for sure the first time I have had Foie Gras ice cream and like before it worked great together.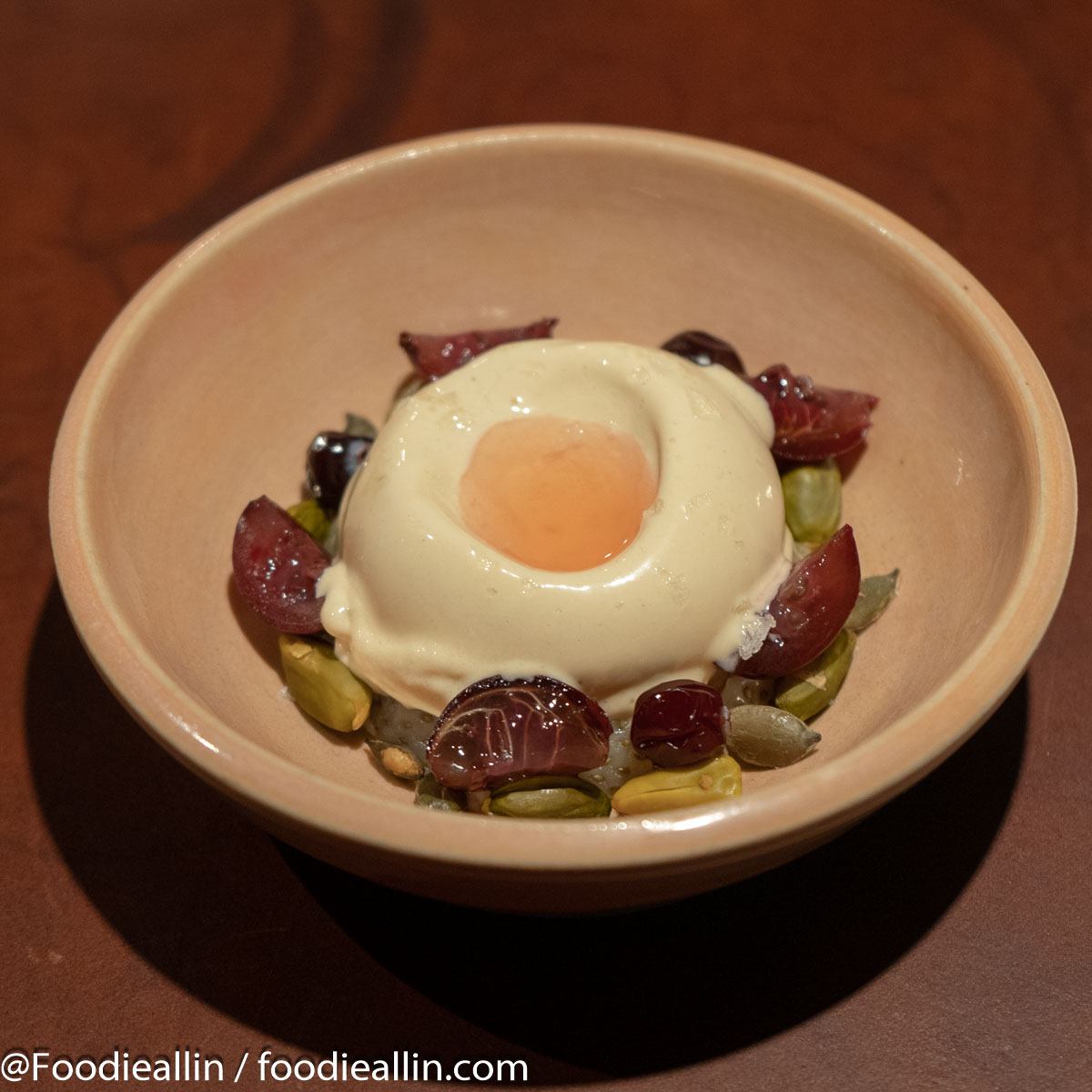 The food kept coming and up next was Foie Gras "au torchon" with toasted brioche, crispy onion, house made charkuteries and date and black garlic puré.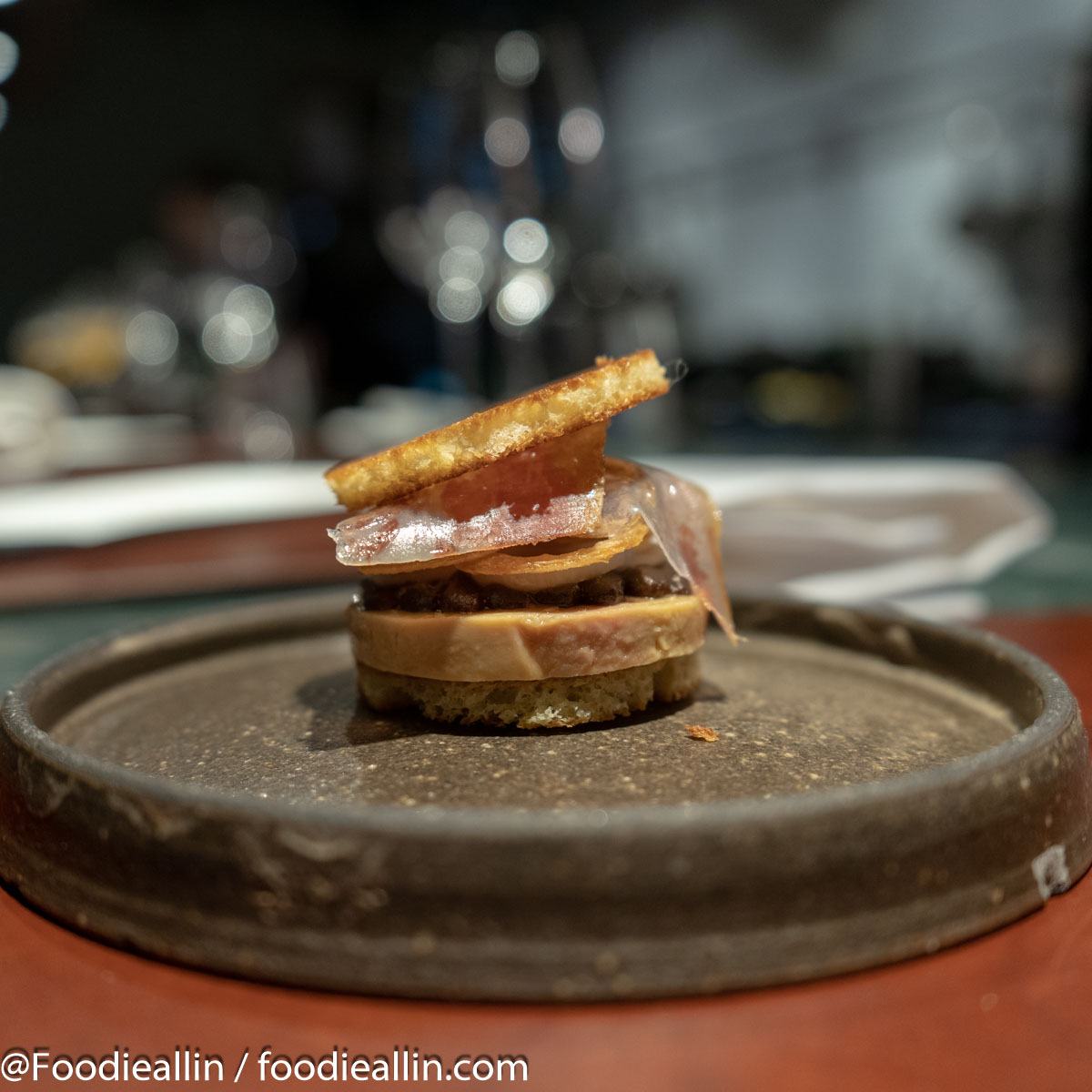 Then it was time for Late summer peas with white miso, "Älvdalsrom" and flowering dill. And I would say it was perfect after the Foie Gras you got before.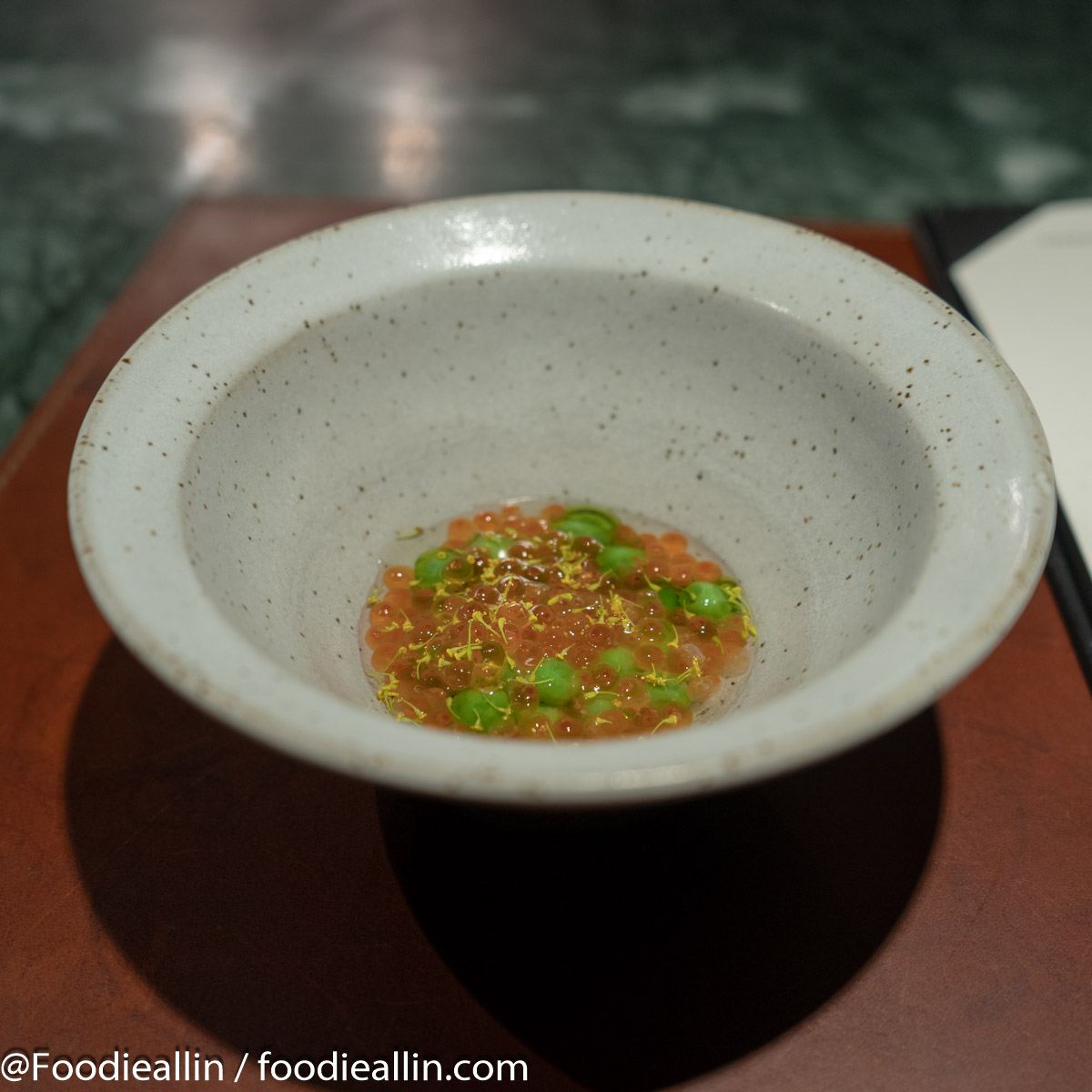 After that it was time for the extra dish I ordered, The Hedonist spoon that contained Tartar of Pata Negra Gran Bellota, marinated quail egg and Sturgeon caviar. It was creamy and delicious and it is why I don´t regret ordering it.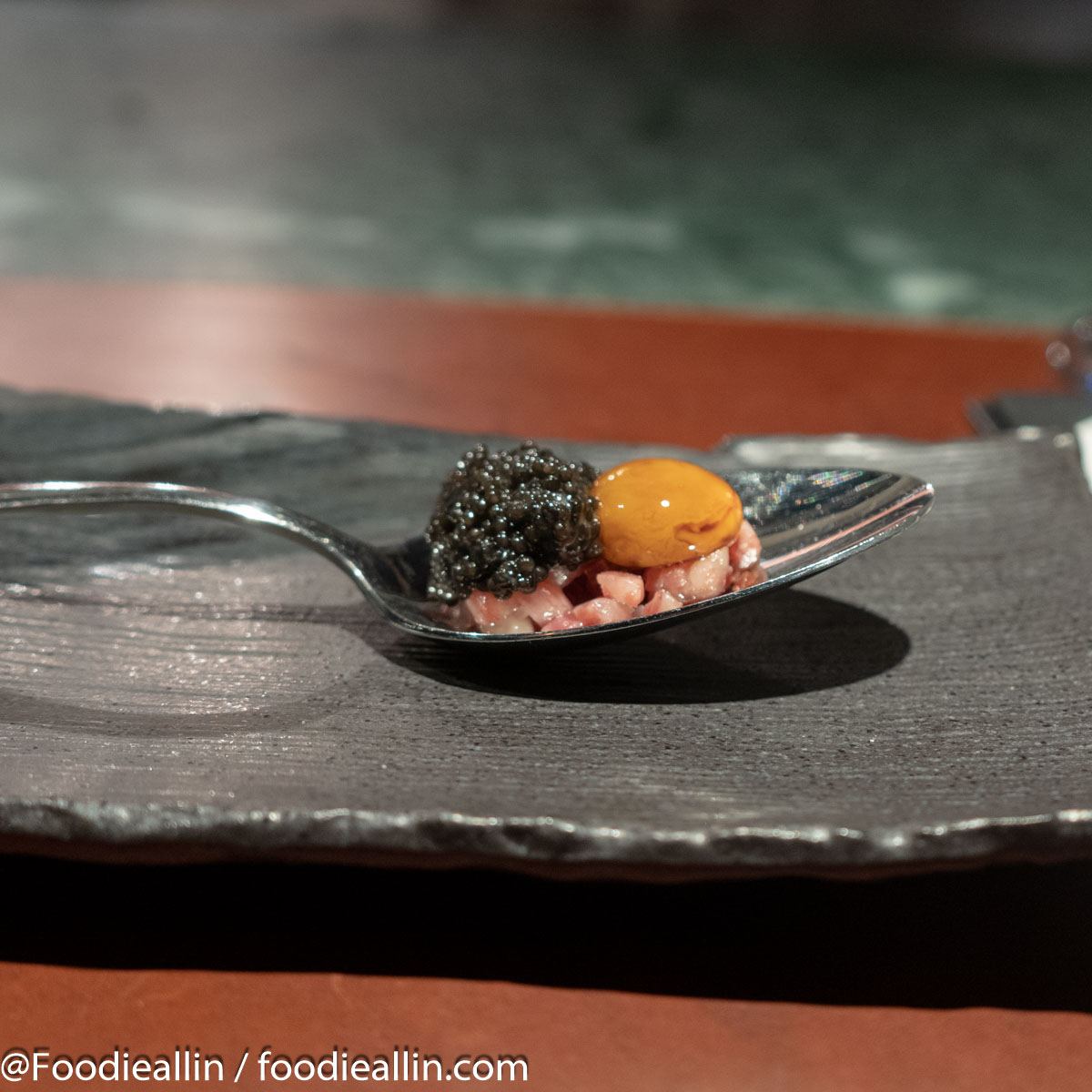 Then it was grilled corn, braised carrot and zucchini, served with preserved coriander seeds, wild herbs and a emulsion of butter and Wagyu fat.
After that we moved on to some pasta with ravioli with lovage and parmesan, served with tomato water and gently cooked tomatoes. And here you really should try to get a bit of everything in every bit.
Last thing before it was time for desserts was roasted quail stuffed with quail mousse and spinach, served with girolles and curry.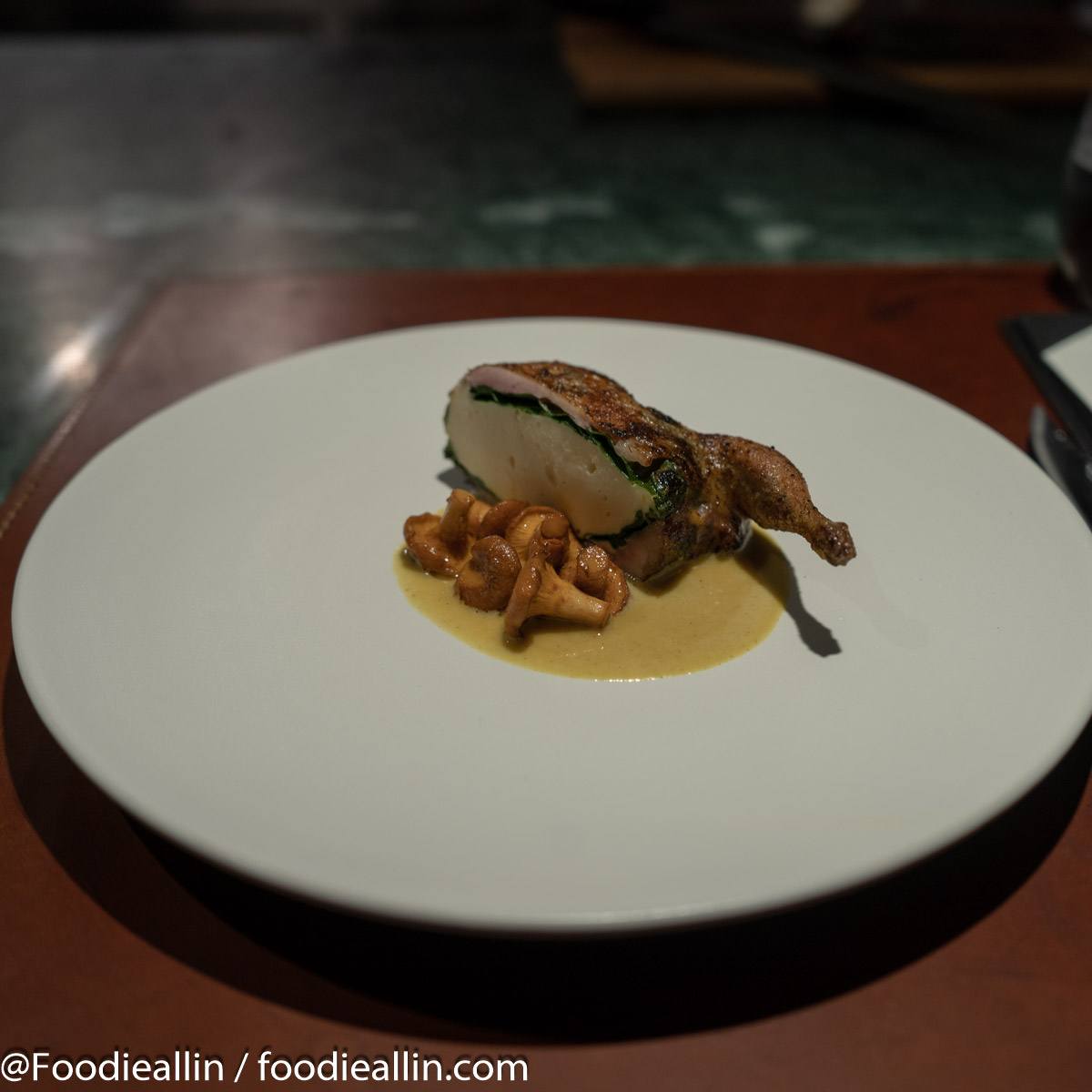 The dessert servings started off with Swedish blueberries with buckwheat pudding, rhum, pickled spruce and woodruff ice cream.
All good things has to come to an end and so did this dinner with a "Sablé au chocolat" with Swedish cherries as the last dessert.
So both the food and service had a great standard and I will definitely come back here.
Adress: Yxsmedsgränd 12, 111 27 Stockholm
And here are some more photos:
Summary
Reviewer
Review Date
Reviewed Item
Author Rating