I spent a week at Playitas hotel in the Playitas resort together with two friends. It was about a 45 min buss ride from the Fuerteventura airport. It was my first time here, but my friends had been here before. The plan for the week was work, workout and relax and this was a perfect spot for it.
I went with the full board option, so I had all meals at the hotel restaurant and it was buffet style. The food we had during our week there was totally okay, just what you expect from a buffet.
The resort is big and has some different options, I was staying in the hotel, but they do have apartment hotel and villas as an option to and soon they will have a guest house option.
The main selling point with Playitas resort is sports and workouts and you get plenty of options here are just a few:
50 Meters Olympic swimming pool
Group training (Everything from core training, afro dance, body pump and more)
Gym
Badminton, Basketball, Tennis and more
Running routes
Open Water Swimming
Spinning classes
Golf
Yoga
Cycling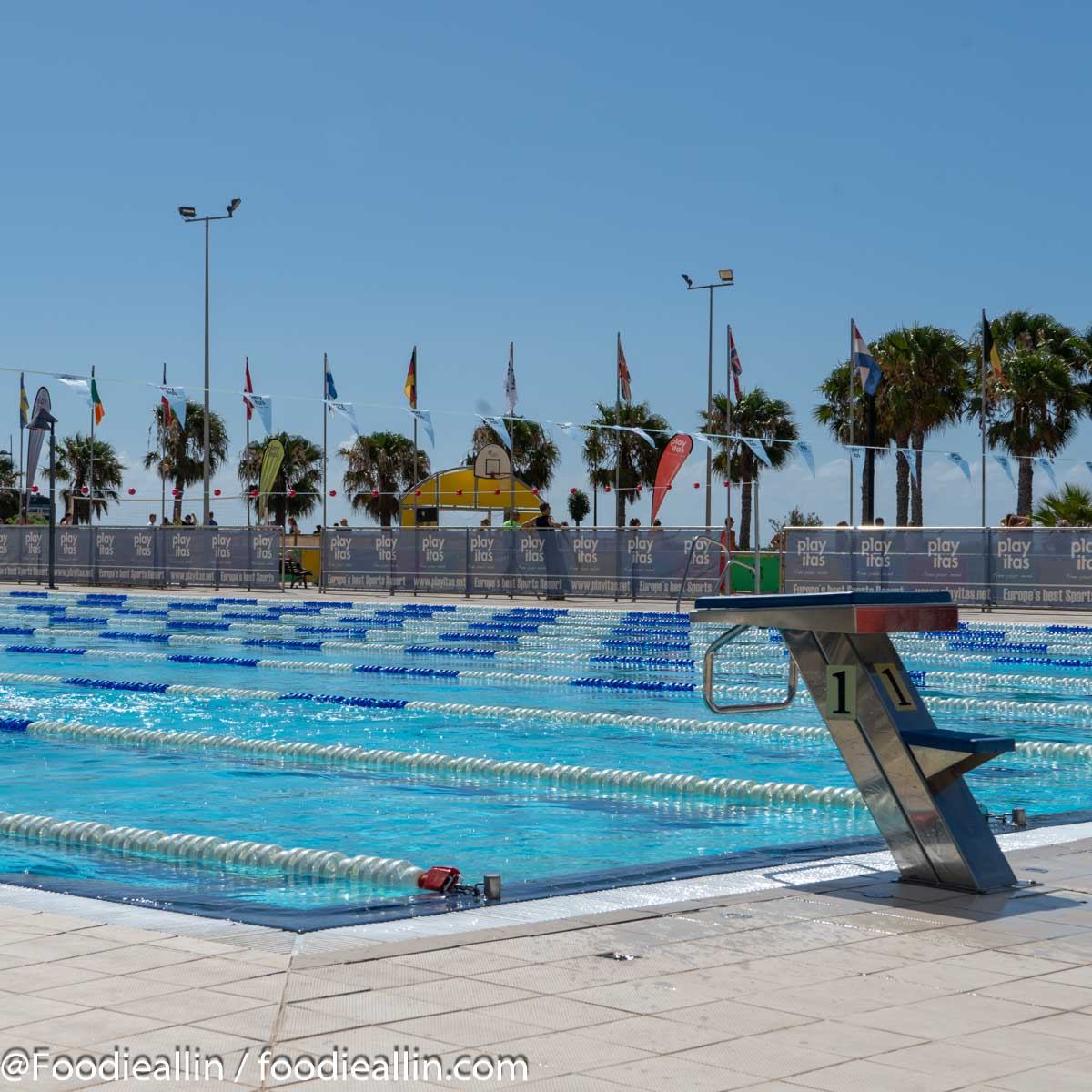 Basically every sport activity you want to do you can do here but check out https://www.playitas.net/en to find out everything. And if you don´t want to bring your bike and so on a lot of things can be rented there.
Some of the group training cost (3-4€) to sign up for but some are free. One thing that is free is the Sun salutation at 8 every morning, it takes around 15-20 minutes and it is a very good way to start your day and your body before breakfast.
To relax when you are not working out there are a couple of pools at Playtias resort where you can relax, or you can go and visit the spa for a relaxing sauna, Jacuzzi or book a massage.
When it come to the food you have three options at the resort. The first is the buffet style restaurant and the only one I tried because it was a smooth and easy choice. Then you have two restaurant, one that focus on pasta and pizza and the other focus on Spanish cuisine.
The hotel room I was staying in has everything a standard hotel room has so nothing more and nothing less I would say. There is free WiFi in the whole resort and the staff is very friendly.
Walking distance from the resort there is not a lot of other things to do but I would say that it is not a problem since you have some much things to do at the resort and I think that is the whole point of going there.
My tip for everyone going there sign up for something you haven't tried before. Take the chance to try some new work out when you have the opportunity and if you somehow don´t like it, it is over in 30-45 minutes anyway. I tried a trampoline group training and afro dance I am not regretting it.
The best things with Playitas resort is all the option you have regarding to training and exercise, there is really something for everyone here and that it is a variation on the group exercises from day to day.
Video from our stay:
Summary
Reviewer
Review Date
Reviewed Item
Playitas hotel / Playitas Resort
Author Rating