Update 2018-08-25
So time to do an update to this post because I went back to Reethi Beach Resort almost a year after I visited the first time. This time I went with a friend instead of traveling alone. And it was as good as last year.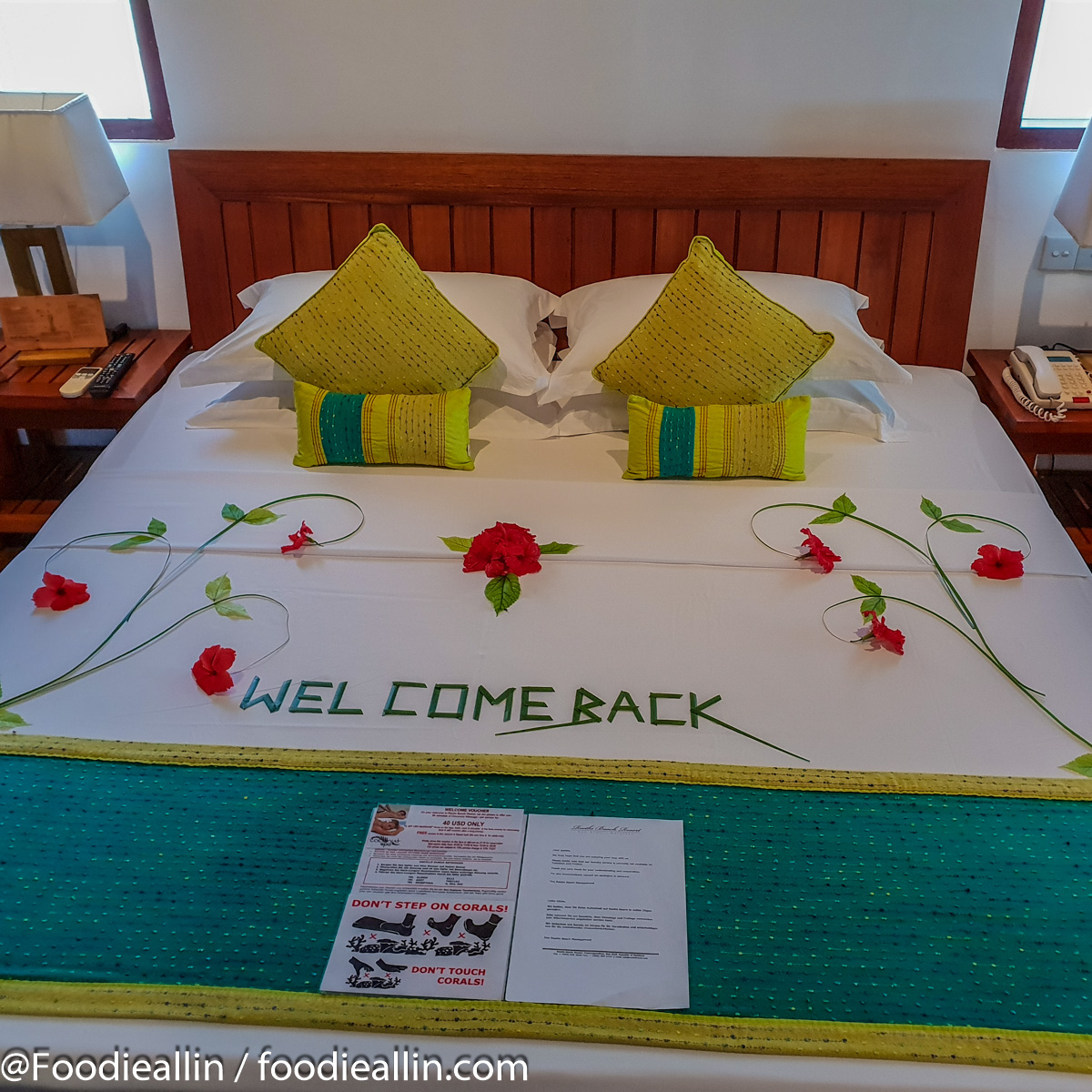 The staff is super friendly and it is a familiar atmosphere at this resort that makes you feel at home. The food and the service is great so after 2 time at the same place I can´t still find anything bad to say about the place. The only bad thing is that the resort will be closing in April 2020 so make sure to go there before they close the island.
I have added some new photos as the bottom of this post from this year.
---
You will find this place a 35 minute seaplane flight from Male in the Maldives. It is a very small island in Baa Atoll. And I went there alone in August this year for 2 wonderful weeks. I was one of the best trips I done in my life. You can chose from 3 different types of accommodation and those are Reethi Villa, Deluxe Villa and Water Villa. Reethi Villa is the one I picked which is the one that cost less, because I didn´t have any plans to be in my room a lot anyway. I like the room with a big and nice king size bed, good air conditioning and a open air bathroom. And I had around 25-30 steps from my room until I was on the beach.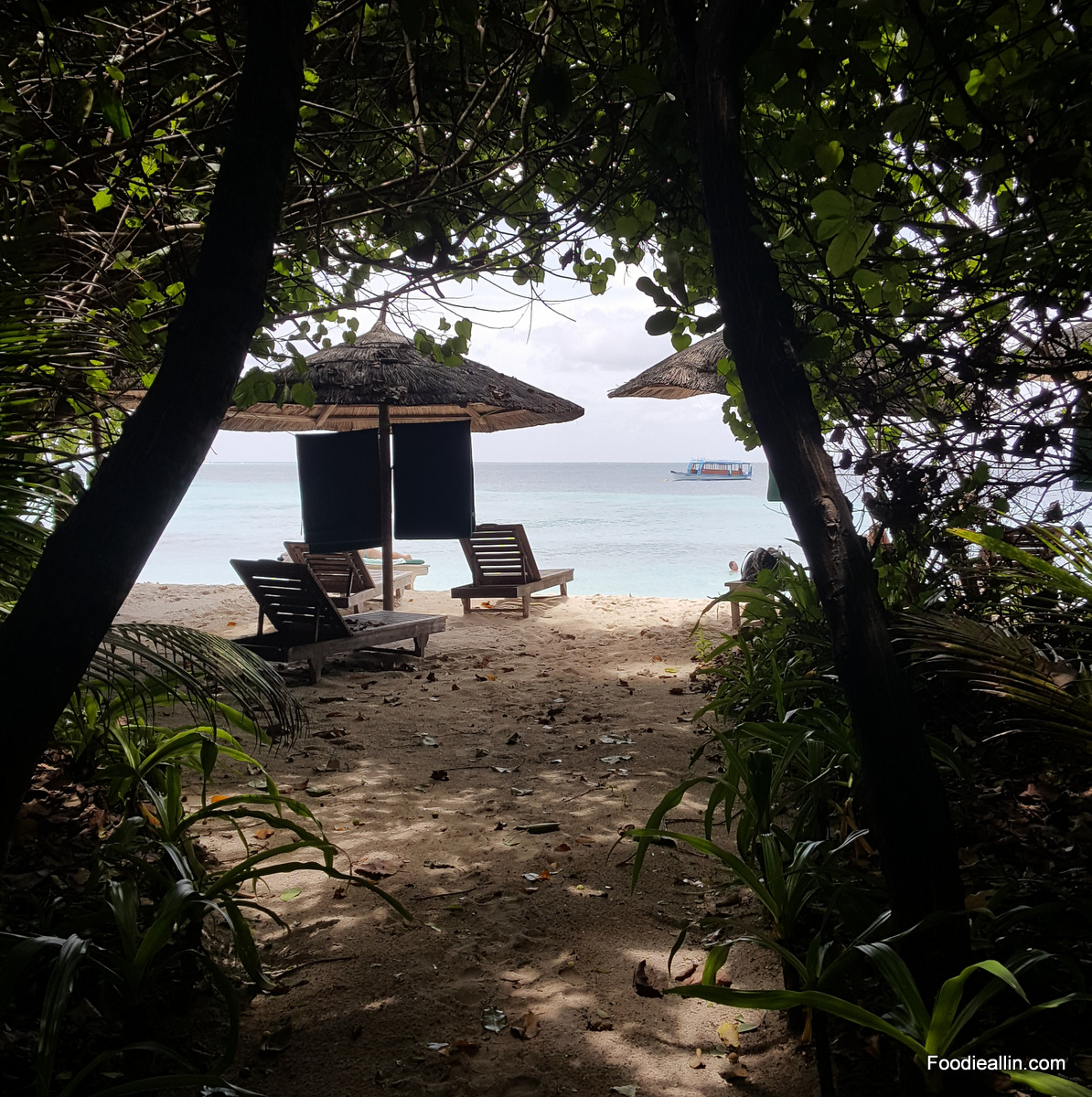 All the staff on the island is very friendly and helpful and I mean everyone made me feel very welcome. The island is around 1,3 km around and there is still a lot of things you can do. If you get tired of relaxing on the beach you can move over to the pool area. And if you want more activity I really recommend snorkeling on the house reef that is just outside of the island. That was the main reason I went to the Maldives and I snorkeled everyday during my vacation there and there is always something new to see.
Besides that I went on boat trips to go and snorkel on different places to during my stay. The dive center on the island is run by Sex-explorer and there you can book snorkeling trips, scuba trips and learn how to scuba dive. They were very helpful and I went on almost every snorkel trip they have (I need to save something for the next time I come there). Two trips I can really recommend is to do the turtle snorkel to get a good chance to see some turtles and go on a snorkel trip to see some Manta rays. When I was there we got to go to Hanifaru Bay which is a UNESCO biosphere reserve in the Maldives so it is designated as a marine protected area. If you are lucky and get some photos of the Mantas you can send them in to mantatrust.org where they can id the mantas you have seen and if you get a photo of a new manta you get to name it. And if you want to help science when you see turtles you can do it with these simple steps.
1: Take a Photo of the turtle (try to include the head because it is used to id the turtle) If the turtle is feeding take a photo of its food as well.
2: Record its activity when you first spotted it (was it swimming, resting or feeding)?
3: Location – Name of the reef where you saw the turtle.
4: Date and time of the observation
5: Send everything to the marine biologist at the island Patrizia at patriziastipcich@libero.it
On the island they always have something happening at 21:30 every night. It can been something like a quiz where you can win prizes, karaoke, disco and more. So there is something to do every night .
During the days you can also rent jet skis and more over at the water sports center, I didn´t do it this time but will do it next time I come to the island.
Regarding the food on the island it was very good. There are some different places where you can go to eat, I didn´t do the all inclusive when I was there so I tried all the different places you can eat at the island and I really liked the food.
I could have easily stayed on the island longer than two weeks and will probably do it next time I go there. And it was not only the staff that was very friendly but the guests to and that made the whole atmosphere very good at the Reethi Beach Resort.
So some tips if you are going there it is a cash free island and everything you buy ends up on your room bill. Don´t forget your snorkeling gear, if you do you can rent but easier and better to have your own stuff. There is only a small market shop on the island so bring everything you might need.
Photos from 2018:
Photos from 2017:
Summary
Reviewer
Review Date
Reviewed Item
Author Rating