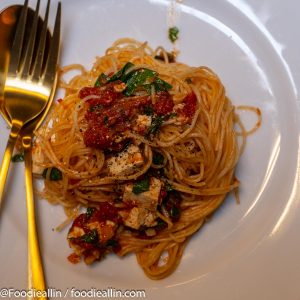 SoCheeze Mediterranean Herbs Italian Pasta
Quick and tasty pasta dish
Ingredients
1

pack

SoFine Mediterranean Herbs Tofu

1

shallot

2

tbsp

white wine

1

teaspoon

garlic

100

g

crushed tomatoes

1/2

chili

1/2

dl

parsley

100

g

Cappelini (pasta)
Instructions
Start off by putting a pot of water on the stove to use for boiling the pasta.

Pour of half the oil from the tofu. You can save it for a dressing later.

Fry garlic, shallots and chilli in the oil until it smells but has no color. Add the white wine and bring to a boil. Then add the crushed tomatoes.

Time to boil the pasta, salt the water and put down the pasta.

Add tofun to the frying pan and turn it gently, season with salt and pepper.

When the pasta is done, pour off the water but save some of the pasta water in a coffee cup. Add the pasta to the frying pan together with the parsley. If necessary, dilute with some pasta water, turn around and serve.